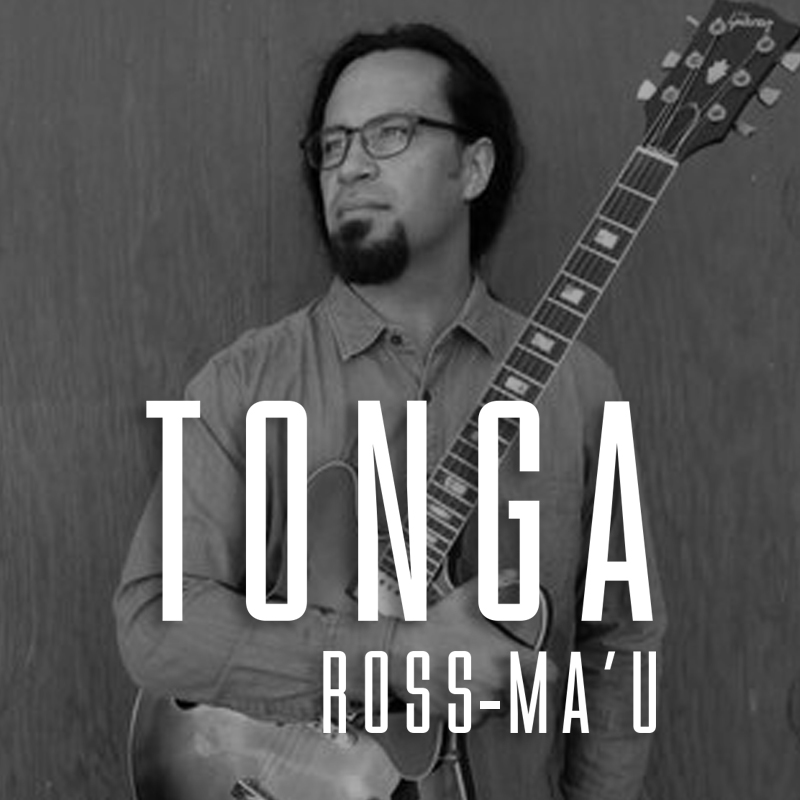 Expert Jazz Musician with Versatility, Talent and Passion.
Growing up in San Diego and surrounded with music, Tonga Ross-Ma'u was encouraged from a young age to explore a variety of instruments and would often play music with his father, Semisi Ma'u. Getting a front row seat to rehearsals with his father's band and learning the meaning of exploring sounds, collaborating with others, created a fertile ground to engage and spawn a deep passion for music. When Tonga was 13, he was introduced to the public and allowed to play with several bands expanding his knowledge and tapping into musical experts and mentors to develop his skills even more.
Following his passion and connecting mostly with Jazz, Tonga studied music at Wheaton College, MA. There he developed his understanding of music theory, history and culture and channeled this knowledge into creating his own unique music and improvisations.
Check out Tonga Ross-Ma'u is featured playing the steel pan with the band Semisi & FulaBula at Wheaton College, Norton, MA.
Today, Tonga continues to perform: more specifically he has expanded to teaching young musicians as well as other adults at the International Academy of Jazz in San Diego and I had the privilege of sitting down with Tonga for this amazing interview:
I love that you were immersed in music from a very early age. Talk about some of your favorite memories being around your dad, his band and what it was like to express yourself through music at an early age.

"Music was going on in the house a lot. One of my favorite memories is walking into the living room of our house when I was in early elementary school and just hearing him rehearse some songs with his bandmates while I passed by to get to the kitchen for a snack/water. Music for me was just the way of life. It was never forced upon my brother and me, we just naturally gravitated to it probably because there were always instruments everywhere and different musicians would roll through the house and play with my dad."

If you were to pick 3 highlights or great experiences during childhood through college, what are your favorite moments, when you really felt like you had accomplished a new level in your musical journey?

"During my senior year of high school, I really got into practicing and diving deep into the bass. I would watch this DVD of bassist Victor Wooten "Live @ Bass Day '98" and felt so inspired that I watched it every day for a couple months straight, trying to copy as much technique and musicality I could to add to my arsenal. My brother was in college at the time and when he came back for winter/summer breaks, he was surprised at how much I had improved in such a short time. Pays to practice, you know?"

You can play many instruments; name your top 5 and then go into which one is your favorite and why.

"I don't really have a favorite instrument per se, mainly because each one of them offers me a different voice to express with. There are certain things I can get across on a guitar that I just can't on a piano, or more on a bass than a steel drum. Every instrument has its own charisma, and that's what's driven me to keep pursuing all of them. But if I'm being honest about what I connect with the most? Probably the bass. I feel most in tune with it in any situation. If I had to jump in on any gig with no preparation I would always reach for the bass."

What is it about Jazz that gives you that sense of connection more so than other types of more formal or segmented music?

"The freedom to take it the distance. I love playing all kinds of music, but with jazz I get the opportunity to go for things during an improvisation that challenge me to discover something new about myself."

How did you learn about IAJSD and what has drawn you to be a teacher here?

"Kamau asked me if I'd be interested in working with the kids at IAJSD. I've been working closely with him for the past 10 years, both on and off stage, and I believe he knew it would be a great fit. I'm grateful that he's put me on to a number of teaching opportunities with him over that time: UCSD, where I worked as a volunteer teaching assistant for him for 5 years; California State Summer School for the Arts, where I was a faculty member alongside him; and the Museum of Making Music, where I helped him teach music to a couple of underprivileged communities."

IAJSD has primarily focused on kids that are 10-18, but now they are opening it up to adults. What is the most exciting thing about working with the kids?

"I enjoy making the music accessible and welcoming to all students, no matter the age. Learning jazz can be daunting, even intimidating at times, but I like the challenge of breaking it down so that a student new to the music feels comfortable enough to dive in and take a chance."

What have you seen, as kids have toys and other gadgets to play with, that music brings and the biggest benefits of playing in these small ensembles that IAJSD provides for these kids?

"Playing in an ensemble teaches kids a lot about teamwork alongside individual development. There are a lot of ways to nurture those skills but music is a platform that is unique, especially in a band setting. Everyone is on the same team and everyone learns to support each other. When one person dedicates themselves to their role and plays their part, everyone benefits. During improvisation, they are able to focus on expressing themselves in a way unique to them while at the same time feeling supported by the rest of the band."

Who (mentor wise) would you say has made the most impact on your success and why?

"Kamau has had the deepest impact on my musical trajectory since I moved back from college to San Diego. At this point it's truly immeasurable what his guidance has done for me. Spending so much time with him in the classroom, on the bandstand, and just hanging out of course helped enhance my musicality, but he also lived by example how you can help people around you, through music or just being present and dependable. The root of everything he does comes down to lifting people up. I've always tried to do the same and I think that's why I resonated with him so much."

Let's talk about what you're up to currently and where people can find you to watch you perform:

"Currently I have a couple of my own recording projects out. One of them is my jazz project "Ascent Trio". The EP (under the same name) I released has a couple of reimagined jazz standards alongside 3 of my own compositions. I also have a solo project of lo-fi instrumental beats that I released a handful of singles and an EP under "Tonga". You can find both projects on all digital platforms (Spotify, Apple Music, etc.)"
CONNECT WITH TONGA ROSS-MA'U
ON FACEBOOK: Still performing with Dad (Semisi & FulaBula): Polynesian roots merged with reggae, blues, funk, rock and jazz
Night People Jazz, a Showcase of Solo Jazz Powers in San Diego –
SEE CALENDAR
One Drop (Reggie) – NATIONAL TOUR
YOUTUBE: Acent Trio
Bomb Squad – Tonga on Piano as Bass:
Chief Nasty Compilation CD: Download the full song for free or name your own price here: https://chiefnasty.bandcamp.com/releases
See more videos of Tonga highlight videos on YouTube: https://www.youtube.com/results?search_query=tonga+ross-mau